AUDIX MICROPHONE CLINIC SERIES
WITH FRIDAY'S CHILD IN PRODUCTION
Updated 1/17/06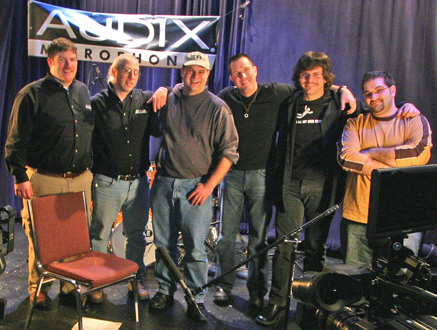 Dragon Rider Productions and Friday's Child are putting together a series of instructional video clinics for Audix Microphones, called:
Audix Microphones Presents
Broaden Your Band:
How to Bring the World to Your Music
An Indie Music D.I.Y. Video Series Featuring Friday's Child
The focus of this series will be how to improve and market a professional indie music act in the digital age. The first installment will cover how to produce, mic and record a live theater concert for broadband conduits. Production began on December 13, 2005 and featured interviews with Phil Garfinkel and Rob Schnell from Audix, band members Tom Walker, Rich Haddad, Don "The Professor" Regan and Rob Grosso, as well as filmmaker Brian Jude. The clinic will also feature footage from Friday's Child: Live at Luna Stage.
Thanks to Cliff Castle, Phil, Rob and everyone at Audix Microphones, who are showcasing a ten-minute trailer this week at The NAMM Show '06 in Anaheim, California.
Thanks also to director of photography Craig Schiavone, editor Steve Maio and everyone at PFS Marketwyse.
Here's the ten-minute trailer from "Broaden Your Band..." plus four clips from "Friday's Child: Live at Luna Stage":

All clips require Windows Media Player to view. Click here to download the player for free. Select the version that is compatible with your PC or Mac.
Do you use Mac OS X version.3.9 or later and QuickTime 6.5 or later and can't see the video? Click here to play Windows Media files (.wma and .wmv) directly in QuickTime Player.